Cover gallary
2023
31(有机半导体范德华电极阵列)

Improving Charge Injection for Organic Field-Effect Transistor Array via Chemical Functionalized Van der Waals Top-Contacts

Adv. Mater. Technol. 2023, DOI:10.1002/admt.202300451.

JMCC HOT Papers

30(溶液法大面积制备高k介电层及柔性有机电子器件)

Low-voltage organic single-crystal field-effect transistors and inverters enabled by a solution processable high-k dielectric

J. Mater. Chem. C 2023, DOI:10.1039/D3TC00246B.

JMCC HOT Papers
2022
2021
2020
12(有机半导体表面电荷转移掺杂)

Highly Efficient Modulation of the Electronic Properties of Organic Semiconductors by Surface Doping with 2D Molecular Crystals

Sci. China Chem. 2020, 63, 973-979.
2019
2018
5(单一取向的有机半导体单晶阵列)

Unidirectional and crystalline organic semiconductor microwire arrays by solvent vapor annealing with PMMA as the assisting layer

J. Mater. Chem. C 2018, 6, 12479.

2017
2016
2(二维单晶绝缘层)

2D Mica Crystal as Electret in Organic Field-Effect Transistors for Multistate Memory (cover paper)

Adv. Mater. 2016, 28, 3755.
2006-2015(selected)
专著
书名:《低维分子材料与器件》
作者:李立强,李荣金,胡文平 编
书号:9787030716590
出版社:科学出版社
出版时间:2022-06-01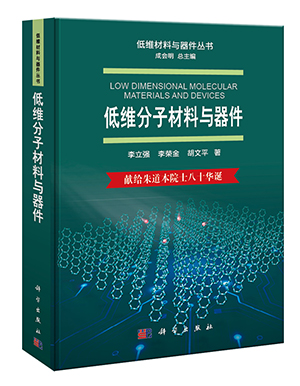 授权专利
李荣金,刘璇宇,胡文平,,超薄晶态连续有机半导体薄膜及其制备方法和应用,专利号:ZL202010100313.X
李荣金,牛智凯,胡文平,有机半导体单晶薄膜的制备方法,专利号:ZL201911063282.9
李荣金,姚佳荣,胡文平,一种生长二维有机单晶的方法,专利号:ZL201911038621.8
李荣金,姚佳荣,胡文平,利用黏性基底和表面活性剂调控生长二维有机单晶膜的方法,专利号:ZL201810991928.9
李荣金,刘璇宇,胡文平,在二维平面和三维曲面制备连续半导体薄膜的方法和应用,专利号:ZL201810936544.7
学术奖励
项目名称:高迁移率有机半导体材料与器件
类别:天津市自然科学奖
奖励等级:一等
获奖时间:2021年